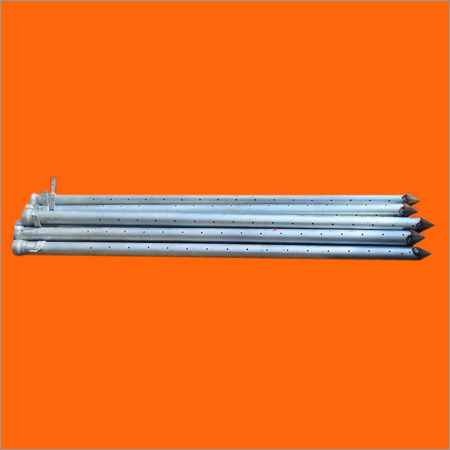 Earthing Electrode (Pipe)
Product Description
In today's life style we can't imagine human life without electricity, as almost every works depends on it, so we can say that electricity is a life saviour, but if electricity is not handled properly, it can also be a threat to life. To avoid these scenario's earthing system have been developed. Earthing, also known as grounding is the process of discharging the excess current to the ground, basically it is done to immediately discharge the electrical energy built up in installations in order to prevent damages both to the equipment and human life. To perform this process, a path is created from an electrical instrument to earth with zero potential through GI Earthing Pipes or Earthing Electrode, as the current flows from higher to lower potential.

To perform earthing, earthing pipe, earthing electrode is scientifically developed equipment, which ensure proper earthing of electricity during domestic or industrial installation. These earthing pipes are galvanised and planted in the ground by auger method. Technically earthing pipes are known as earthing electrode pipes, these are suitable for all types of installation right from domestic to power stations. These are widely used in electrical installation, transmission line in transformer earthing and other such applications. Copper pipe is commonly used as
Earthing Electrode Pipe/Earthing Pipe
.
The size of the pipe depends upon the current to be carried and type of soil usually the pipe used for this purpose is of 38mm and 2.5m in length the depth at which the pipe must be buried depends upon the moisture of the ground.
Based on latest technology, we manufacture all types of electrical earthing pipes, earthing pipe electrode, earthing copper pipes and more. Our range of Earthing Electrode Pipe assure safe and higher earthing provision because we use optimum quality raw material in the manufacturing of these pipes and our state of art manufacturing unit is well equipped with modern tools and machinery, that enables us in the smooth production of our exclusive gamut in adherence to the demands and specification of our esteemed clients.
Earthing Electrode Pipe Features :-
Low electrical resistance and high corrosion resistance
Connectivity up to chamber or earth terminals
Reliable, durable and easy to handle
Highly secure and well tested by using latest technology
Optimum quality performance and available in different sizes